One-Stop Source for All Your Classroom Needs
Let Grainger make your job easier by being your one-stop shop for equipment and supplies that will support your curriculum and fit your budget. From healthcare, agriculture and public safety to metalworking, manufacturing and more, we support a variety of career clusters, helping you create exciting, real-world learning opportunities.
Grainger has been awarded many competitively bid state, local and cooperative contracts for the items you need. Count on us to help you spend less time shopping for products and more time on your organization's priorities. With over 1.5 million products, we have what you need to help keep your students engaged and inspired all school year long.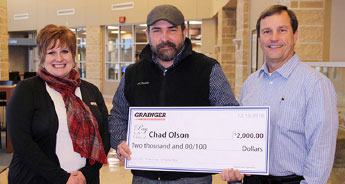 Tooling Up Tomorrow's
Workforce for Success
Since 2006, Grainger has awarded over $4 million, helping students throughout the country achieve their education goals through the Tools for Tomorrow® scholarship program. The scholarship recognizes outstanding students with a $2,000 scholarship and a customized Westward® toolkit upon successful completion of the student's technical education program. For more information on the Grainger Tools for Tomorrow® scholarship program, please visit graingercsr.com.