Grainger Energy Services

Help reduce costs and conserve energy without disrupting your operations through Grainger's network of qualified, insured and licensed service providers.* From HVAC upgrades, compressed air system studies and lighting retrofits to water conservation, steam system assessments and more, see how the Grainger Energy Services team can help you reduce your facility's carbon footprint.
*Provided by third-party service providers. Subject to customer eligibility and agreements.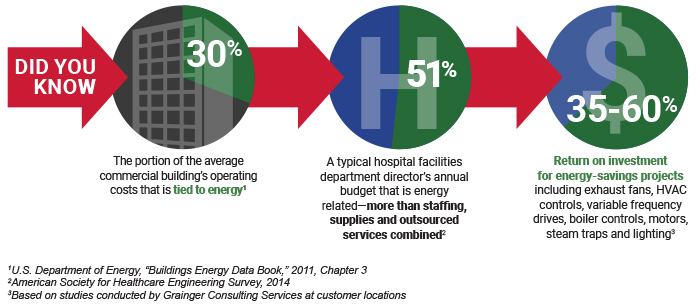 End-to-End Energy-Saving Solutions
Click on the tabs below to learn more about each solution.
Comprehensive Services Include:
Multiple energy- and water-saving solutions
Audit and financial analysis
Material, contractor and project management
Installation by qualified, insured and licensed service partners
Identification of applicable incentives and rebates
Disposal and recycling

Energy Services Insights
Related Articles
Contact Us
For additional questions, please call us today at (866) 597-1330.
Related Links