Metalworking Solutions

Metalworking Expertise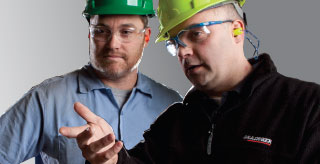 Grainger's dedicated metalworking specialists help work through challenging metalworking applications and identify cost-saving solutions. Our team of specialists is comprised of individuals with hands-on industry experience in a variety of applications.
Click here for more information or contact your Grainger Rep to set up an appointment with a Metalworking Specialist today!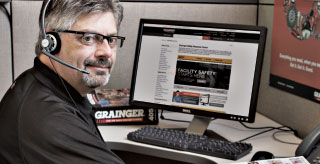 Grainger's Technical Product Support Specialists have the education, field experience and training to provide answers to your product questions, fast and free of charge.
Call 1-800-GRAINGER for Grainger's Technical Product Support Specialists
Metalworking Services

TOOL RECONDITIONING
Help extend the life of your tools with an innovative process that regrinds a wide variety of tools to manufacturer tolerances.

MACHINE Guarding Service
Certified engineers provide solutions to help protect operators and others from rotating parts, pinch points, flying chips and related hazards.

Brady Lockout Procedure Services
The help you need to facilitate compliance with OSHA's Lockout/Tagout Standards.

Master Lock Professional Lockout Service
Get expert help with your lockout program development, written procedures, compliance training, inspections and audits.

Inventory Management Solutions
Get control of your inventory and help take costs out of your business. Choose from a variety of solutions to help you save time, space and money.

CUSTOM BAND SAW BLADES
Get the custom band saw blades you need, specific to your sawing application.
Metalworking Insights

- How to Increase Energy Efficiency with Machine Tools
- Metal Fabricator Offers Welding Machine Advice
- Portable Mig Welder Helps Save Time for On-Site Repairs
- Portable Plasma Cutters Help Improve Efficiency in the Field
- Choosing the Right Drill Bit for the Job is a Critical Component for Getting the Job Done Efficiently
For even more insights, visit the Knowledge Center.
Brands You Can Trust


Clear Cart?
All products will be removed from your cart. Are you sure you want to continue?