Personnel Lifts Take Maintenance to a Higher Level
Featured Products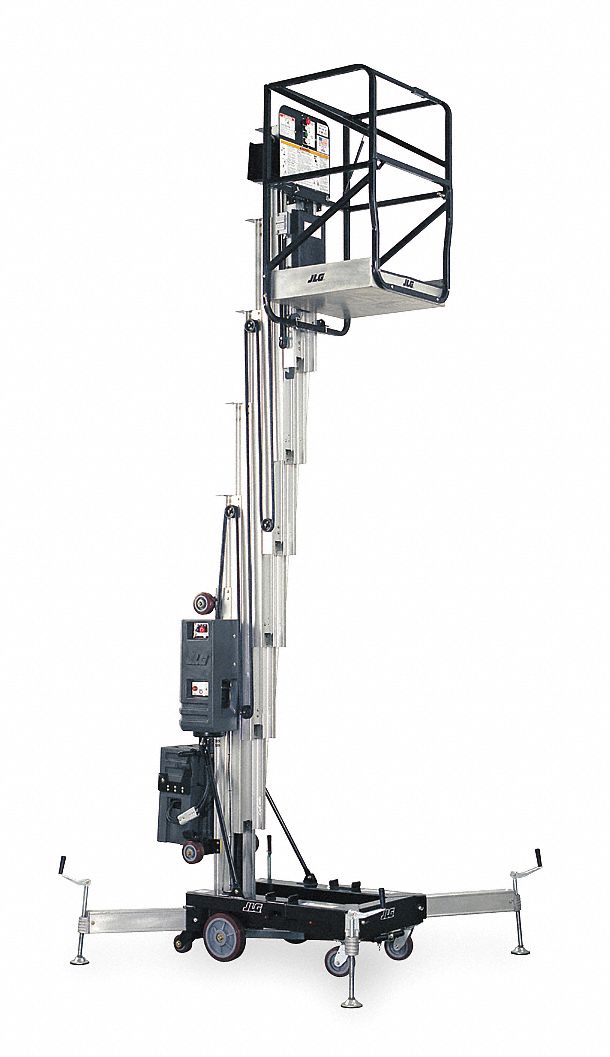 ---
The lift chosen for the Noble Network of Charter Schools has a working height of 31 feet.
Tony discovered a line of personnel lifts from JLG Industries. Two types of machines were available: self-propelled electric powered scissor lifts with platform capacities up to 1,000 pounds and platform heights that extend to just over 31 feet, and push-around or drivable vertical mast personnel lifts.
Vertical mast personnel lifts have a work platform attached to an aluminum telescoping mast that lifts straight up from a steel base capable of holding a single worker. Vertical personnel lifts have capacities that range from 300 to 500 pounds and working heights from 21 feet up to 47 feet.
Tony settled on a JLG® model 25AM push-around lift with 31-ft. working height and 350-lb. platform capacity. Tony received his new personnel lift from Grainger within a week, and immediately knew he made a smart business decision. Its small footprint and a low stowed height makes the lift easy to store in an out-of-the-way niche. The narrow width makes it easy to fit through doors and be moved from floor to floor in the schools' elevators.
Not only is the vertical personnel lift safer than the scaffolding Tony's maintenance crew was using, it's also much more efficient. And workers don't have to tire themselves climbing up and down all day.
This lift is easily loaded into a pick-up truck for use at other locations.
At the primary school, the lift is stored on the second floor and lowered by elevator to the first floor when needed. It's then pushed outside around the corner and up the handicapped access to the gym, which is in a separate building away from the classrooms. This is typical of the type of maneuvering necessary on the patchwork of buildings where Tony's crew must work. Another benefit is that one person can easily load the lift into a pickup truck so it can be transported from school to school.
Summing up his experience, Tony says, "I am glad I rely on Grainger to supply our schools with the tools we need. No matter what the problem is, they seem to have the solution and can get it to me in a timely manner at a fair price. This lift is just one example. It meets all our needs and helps us keep our people safe."
Related Link
www.grainger.com/education